I decided to write about making your business email more professional after one of my clients mentioned they lost a sale in their early days of being online due to an unprofessional email. Email is still one of the most used forms of communication on the internet, and it's almost impossible to do business without it.
If you're like me, you live and breathe from inside your inbox. Today alone, I sent over 30 emails to my clients, prospects, and business partners. So for me, it is paramount that all of my email correspondence presents itself in a professional way. By following these three easy steps, you too can make sure your messages are polished and ready to go!
1. Update Your Email Signature
Signatures allow your recipients to get a sense of who you are on a professional level. Make sure you include your title, company name, additional contact information, social media, and websites. You can also add a call-to-action to your email signature to get new leads for your business.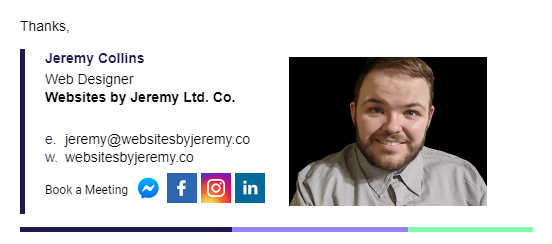 A simple text signature will work in a pinch, but I recommend spending a few minutes to create a professional-looking email signature. It's easy to do and only takes a few minutes using this free email signature generator over at HubSpot.
Additionally, if you write emails from your desktop and phone, make sure to update your signature on both applications. To make it even easier, you can use a service like Gmail to keep everything consistent.
2. Use a Professional Email Address
Let's face it, people judge. When a consumer visits a local business, they are probably going to base their entire experience off of the first 10-20 seconds of their visit. When you are working online, you have even less time than that to make a good impression.
If you start off by sending an email from an address like jeremycollins92@gmail.com, you've already given the person on the receiving end the first sign that you aren't a professional.
Instead, use a service like G Suite by Google to link your email address to your domain name. If you don't already have a domain name, you can get one from Google Domains for around $12/year. This small change instantly tells whoever you're emailing that your business is well-established and genuine, and it's likely to make them feel more comfortable dealing with you.
3. Proofread Your Emails
Mistakes, typos, and stylistic errors can make you appear unprofessional or incompetent. Always, always, always proofread before sending an email or posting anything on the internet. Once you hit send and your email arrives in the recipient's inbox, there's nothing you can do to fix your mistakes!
One tip to make sure you never send out an email before proofreading it is to always put the recipient's email address in last, preferably after reviewing your message. You don't want to accidentally hit the send button before you've had a chance to go over what you've written. I'll be the first to admit to quickly sending something without proofreading it because I was in a hurry.
A powerful tool that I use in everything that I write is Grammarly. It's a writing assistant that automatically checks for spelling and grammar mistakes as you type them. You can see it in action in the screenshot below:
It's free to use but they do have a premium subscription that offers a more powerful suite of tools to proofread your writing. I also recommend installing the Chrome extension so that Grammarly shows up everywhere you type.
Putting it all Together
Dressing for success has been a phrase used in my household ever since I was a child. It simply means your appearance matters. If you dress for success, you are more likely to succeed at what you are doing, and the same concept applies when you are writing an email. When you want prospects to take you seriously, you must invest in a professional image and polish your delivery to land your next client.
By crafting an eye-catching email signature, using a professional email address, and sending a well-written message, you are setting yourself up for success! Your customers will pick up on your professional demeanor a lot faster and they will feel comfortable working with you and your business.