It can be frustrating trying to get the biggest bang for your buck when you are advertising your business. Working with a limited budget makes it hard to shell out $20,000 for a 30 second TV commercial or $10,000 for an email marketing campaign.
Thankfully, there are a lot of free ways that you can promote your business and supplement your paid advertising efforts. In fact, I recommend using these tactics in your business regardless of your budget.
Here are 5 ways to get free advertising for your business that you can implement in as little as 30 minutes and start seeing results this week:
1. Use Google My Business to show up on Google Search and Google Maps
Google My Business is a free tool to help you manage how your business appears on Google Search and Google Maps. When someone searches for your business or a similar product or service that you offer, Google will present them with the most relevant search results to help them find what they are looking for.
Google takes into account many factors in determining who to show in the search results page, and your Google My Business profile can help Google determine whether or not you are a good fit to display to the user.
With a Google My Business profile, you can display your company's most important contact information and recent updates, including:
Your Name, Address, and Phone Number
Your website address
Recent photos of your business
Your latest updates and posts
A Google Map with turn-by-turn directions to your location
Customer submitted reviews
Special offers and promotions that you are running
To get started with Google My Business, create your free profile by visiting google.com/business.
2. Answer questions on Quora
Quora is a popular Q&A website where anyone can ask questions and get answers from the online community.
Answering questions on Quora can expose your business to a large audience. Some business owners get up to 30,000 monthly views by actively participating on the site. When you post an answer that has lots of value to the reader, they may want to visit your Quora profile to learn more about you and find your website address.
It's also great for SEO and even finding high-quality leads. I'm willing to bet that some of your customers are on Quora right now searching for questions related to your business, industry, or product. Being able to jump in and directly answer their questions will improve your chances of converting them to a customer and increase your company's authority and popularity within your industry.
Here are some tips to help you get the most out of Quora for your business:
Create a stunning profile. Show that you are an authority and stand out. Be sure to include a link back to your website.
Find popular questions with lots of views and followers. You can still answer questions that have already been answered if you have something new and valuable to add.
Craft your answers like a great article. Tell a cool story and show that you know the subject in depth.
Find ways to go visual. Insert pictures or videos whenever possible.
Drop a link to another piece of content that covers the subject more in-depth.
Stay consistent with your efforts and try to answer questions regularly. Don't rush yourself though. Quality content is better than a lot of half-baked responses.
To get started answering questions on Quora, create your free account at quora.com.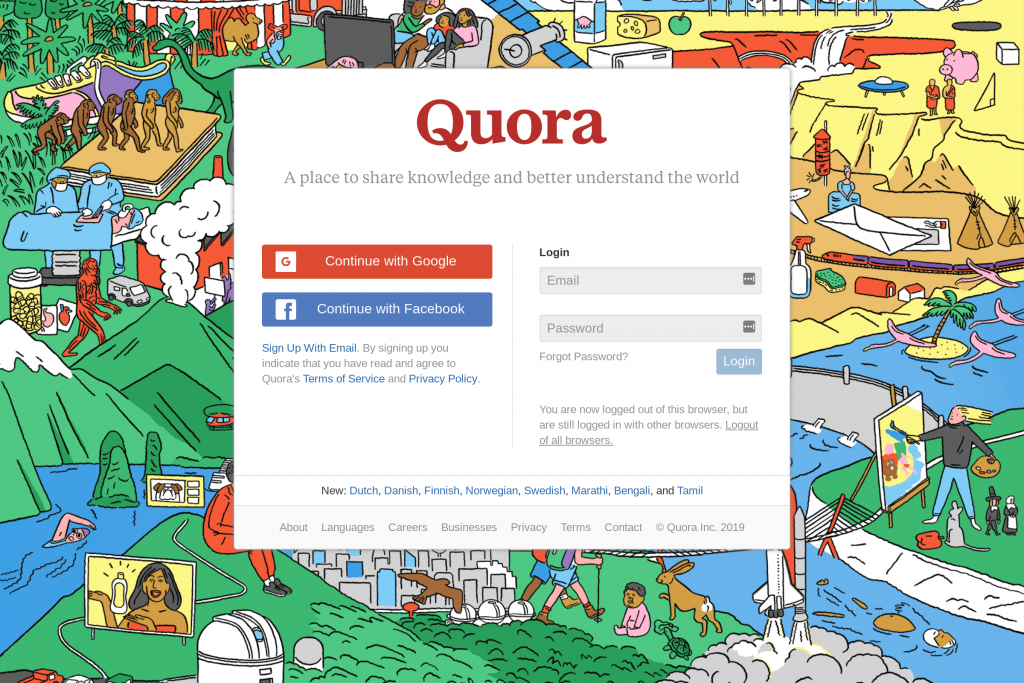 3. Promote your website in your email signature
I send hundreds of emails per day to my clients and followers. The signature section of a well-crafted email is prime real estate for advertising your business.
Your email signature is also a great spot to promote a sale, contest, event, or even a new blog post.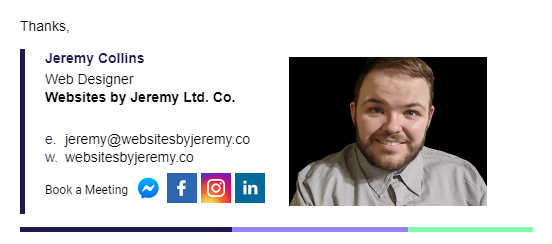 4. Join Facebook groups that relate to your industry
Facebook Groups are gaining in popularity these days. Facebook even redesigned their app to focus more on groups earlier this year.
You can join Facebook groups that are centered around your industry, business, product or service and participate in meaningful discussion. You don't want to spam the group with links to your website though… that's an easy way to get yourself banned.
The best way to advertise yourself on Facebook groups is to make yourself known among the members and admins by participating regularly. When you add valuable insight to conversations or start new ones that get a lot of attention, people will naturally follow through to your Facebook page to learn more about you and your business.
To find groups that you can join, do a simple search for your industry or related product or service on Facebook. If you can't find one that is relevant to you and your business, you can always create a new group and invite your existing clients and co-workers to get the conversation going.
5. Write guest posts for other blogs to get a link back to your website
Writing for another blog is a great way to build exposure, thought leadership, and new relationships with other businesses and like-minded people. Truthfully, this one will take you longer than 30 minutes to complete, but it only takes a few minutes to get the ball rolling and reach out to 10 or so reputable blogs.
The idea behind guest posting is to find a popular and well-respected blog to write for. You'll get a set of requirements from the blog's owner and in return for your contribution, they'll include a link to your website in an author box or somewhere within the article itself.
Both you and the blog owner will benefit from the content that you create. The owner of the blog will get a great article to share with their audience and you will get free advertising for your business. If things go well, you may be invited to write for them many times over the course of your career.
I learned a great way to find guest posting opportunities from Neil Patel's Ultimate Guide to Guest Blogging, which is to do a simple google search using these phrases:
keyword "submit a guest post"
keyword "guest post"
keyword "guest post by"
keyword "accepting guest posts"
keyword "guest post guidelines"
Just replace the keyword with keywords from your industry.
Summary
There are a lot of ways that you can advertise your business online, but these are my favorite ways to gain free exposure for my business and drive quality traffic to my website. You can easily supplement your paid advertising campaigns with these strategies by focusing your efforts on similar topics and keywords.
Let me know in the comments below if you have implemented any of these strategies in your own business. If you haven't, tell me what's holding you back and we can try to overcome the obstacles keeping you from moving forward.